The full course chosen provides a loop close to 4km, the primary school loop / Under 13 loop is just under 3km. There is a variety of trail with a combination of fireroad and both green and blue level trails.
The race will start near checkpoint number 5 however, the timing and race finish will be located further up the fire road and shown in the image.
From the start, riders will have 500m of fire trail to sort out positions before the single track of Double Barrel which has limited passing spots.
Under 9's course
The Under 7+9's will have around 100m to get sorted into position before the first singleton track called Double Barrel. At the end of this track, u7 + 9's will turn left onto the Gun Club and head down to Six Shooter for an extra single track loop. Once back on Gun Club Rd the course heads straight up the road back to the finish line. Riders will complete 3 laps of this course.
It is anticipated the U7's and U9's winning time will be close to 20 minutes.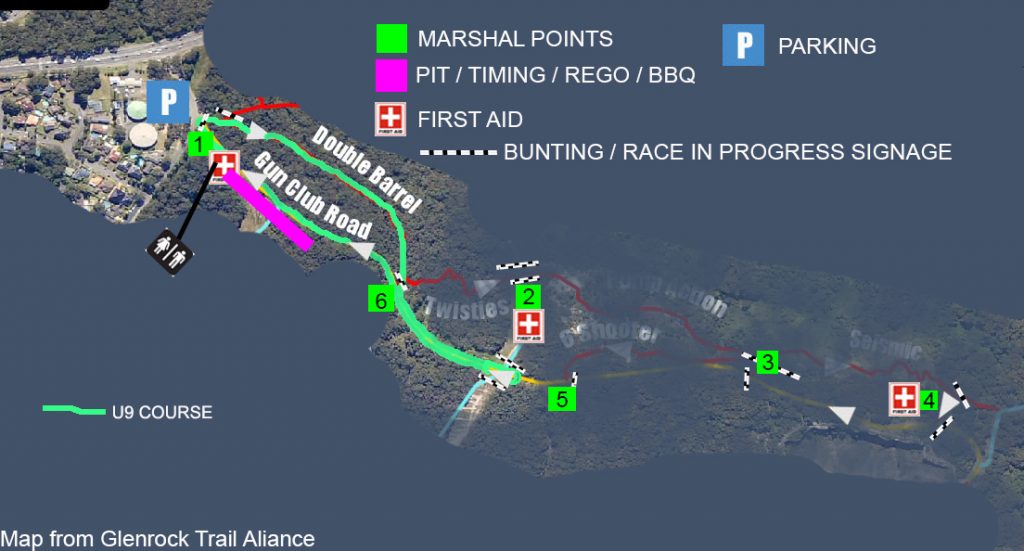 Under 11's and Under 13's course
U11 and U13 will complete the U13 track. The notable technical feature of these tracks are the final dip of Twisties which has a 30-40cm drop on the approach. This is worth investigating before the event.
From Twisties, U11's and U13's will head straight across the fireroad after Twisties to Pump Action.
Under 11 will complete 2 laps with the aim of a winners time close to 25 minutes
Under 13 will complete 3 laps with the aim of a winners time close to 30 minutes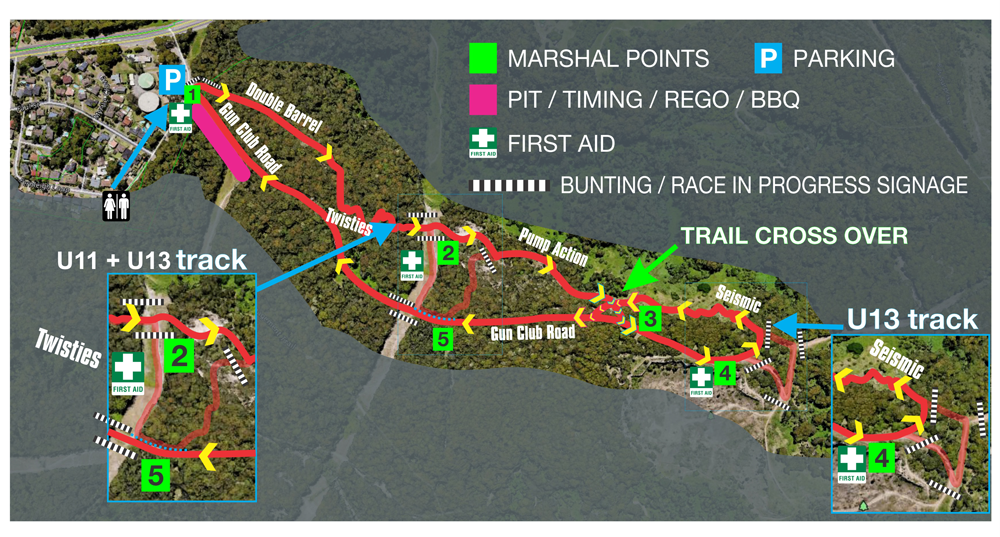 Under 15's, U17, U19
Only the U15, U17, U19 and adults will head uphill for the longest climb in the course. There is overtaking here before the trail hits the single track again on the way downhill to Pump Action. This downhill is fairly dry, dusty and loose, however, is relatively safe. Once at the first quarry of Pump Action there are a couple of options when approaching a short and sharp climb. Through the rest of Pump Action are several pinchy sections that require careful line selection.
Once Pump Action is finished riders will head across the track and head down towards the start of Seismic. The U13's riders will turn at the first approach to Seismic while the rest of the older riders will negotiate a loose off-camber corner and punchy climb with water bars before approaching Seismic.
Once riders climb up the last part of Seismic it is all fire road back to the finish.
U15 boys will complete 4 laps with winners time expected to be around 45 minutes
U15 girls will complete 3 laps with the winners time expected to be around 40 minutes
U17 boys will complete 5 laps with a winners time expected to be around 50 minutes
U17 girls will complete 4 laps with a winners time expected to be around 50 minutes
U19 boys will complete 6 laps with a winners time expected to be around 60 minutes
U19 girls will complete 4 laps with a winners time expected to be around 50 minutes